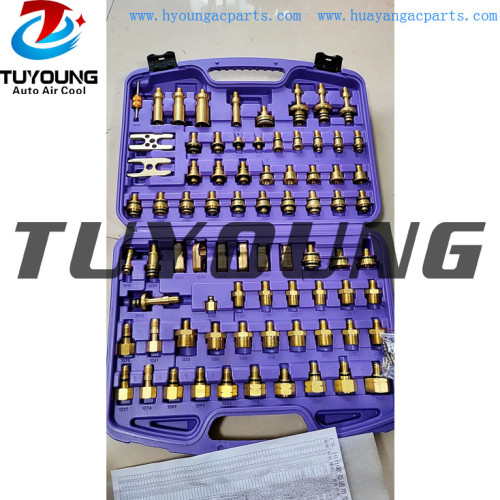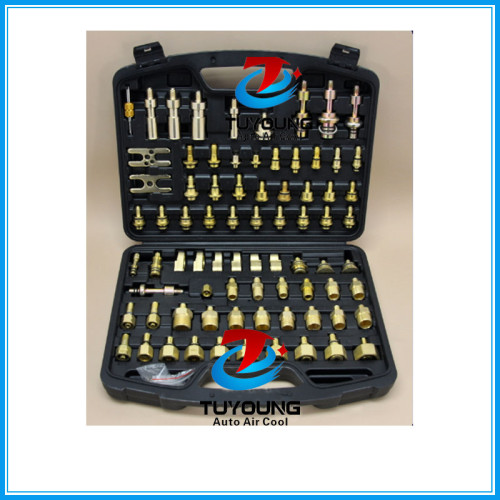 Auto a/c system Leak Detection tools, a multi-element set of adapters for checking, diagnosing leaks rinsing car air conditioning systems, Connections for European and Japanese cars
Item specifics
Brand name

HYoung
type

a/c system Leak Detection tools
fit

European and Japanese cars
function

checking, diagnosing leaks rinsing a/c system
including

a multi-element set of adapters
Description
Auto a/c system Leak Detection tools, a multi-element set of adapters for checking, diagnosing leaks rinsing car air conditioning systems, Connections for European and Japanese cars

Product No.: HY-TL110
Description:
Universal set of connections for flushing car air conditioning. It's 78 elements that allow you to connect to most car air conditioning systems. The connections are brass, thanks to which they have increased durability.

The rinse case will be used in most air conditioning systems of brands such as:
Toyota
Honda
Nissan
Mazda
Mercedes
BMW
Volkswagen
Ford
A set designed for auto air conditioning systems mounted in European and Japanese cars.
The set is used to connect service devices
and a specialist Turbo-Cleaner washing device 2009
These connections are commonly referred to as adapters and apply:
- in detecting leaks in the auto-air conditioning system in cars
- cleaning the car's air conditioning system
Especially useful when checking, diagnosing leaks and rinsing of an inaccessible evaporator, simplifies and significantly reduces service and service time!
Without special troubles, check the tightness and rinse:
- evaporator
- condenser
- cooler
- connecting cables
Necessary :
When exchanging a seized compressor, particular attention should be paid to rinsing the entire autoclimatization system. Suitable liquids and devices are used for this purpose. It is not enough to rinse with nitrogen alone or coolant. The filter or dryer itself does not bring any effects in the car air conditioning system. The service when installing a new compressor for air conditioning in a car should absolutely replace the dehumidifier. Fulfilling the above requirements, we have a chance that the air conditioning in the car will work without failure.
Advantages:
- Easy and precise leak detection.
- Works with cleaning devices.
- Improves cooling performance by independently carrying out the cleaning process.
- Checking the source of leaks instead of replacing parts.
- Effective due to time and labor costs.
- Designed for standard air conditioning systems, simplifies parts replacement.
In addition to the regeneration and repair of air conditioning compressors, We offers regenerated, as well as new and original air conditioning compressors for passenger cars, buses, buses, trucks and construction and agricultural machinery. We also sell all parts and accessories of air conditioning. You will also buy the necessary tools for operating the air conditioning.
Product show: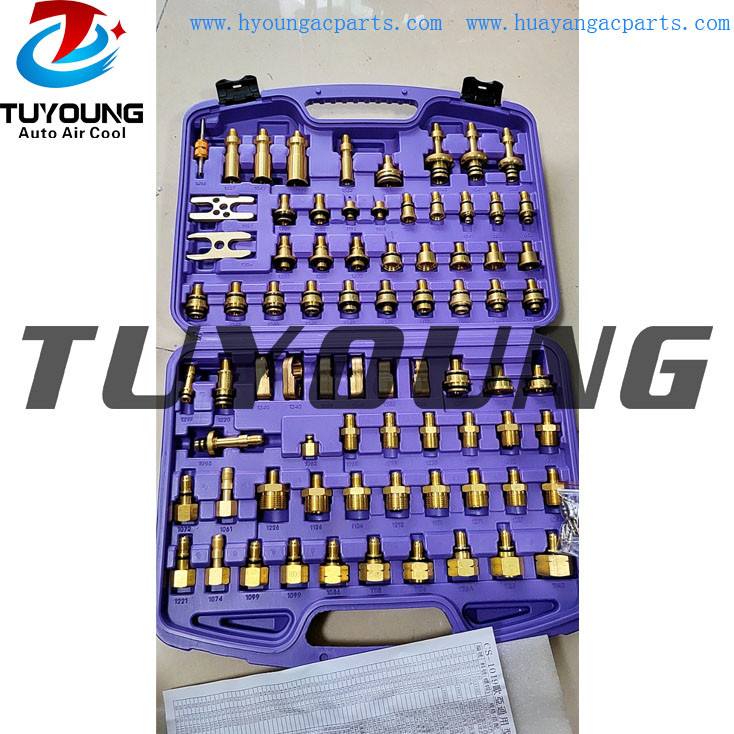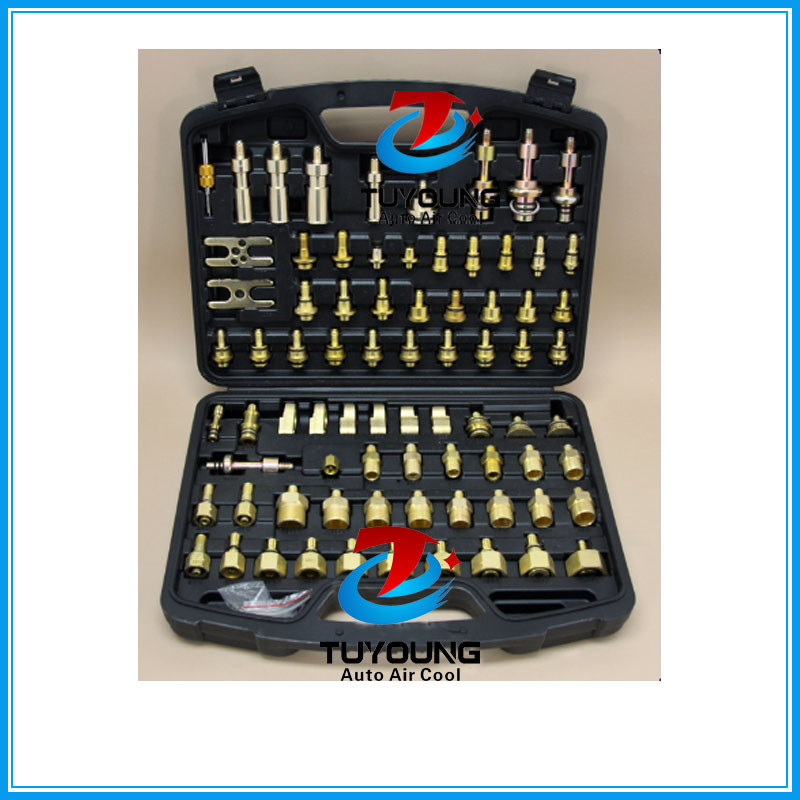 SaveSaveSaveSaveSaveSaveSaveSaveSaveSaveSaveSaveSaveSaveSaveSaveSaveSaveSaveSaveSaveSaveSaveSaveSaveSaveSaveSaveSaveSaveSaveSaveSaveSaveSaveSaveSaveSaveSaveSaveSave